Ryan Robertson Young Achiever & Best First Year Umpire Awards
The Young Achiever award was renamed in 2021 after VAFAUA Life Member Ryan Robertson. The Ryan Robertson Young Achiever award is presented to an umpire under the age of 20 who regularly attends training and association meetings, shows improvement throughout the year, and mixes well with the umpiring group.
The Best First Year Umpire award is presented to an umpire who has natural umpiring ability, a desire to learn, and a commitment to the umpiring group.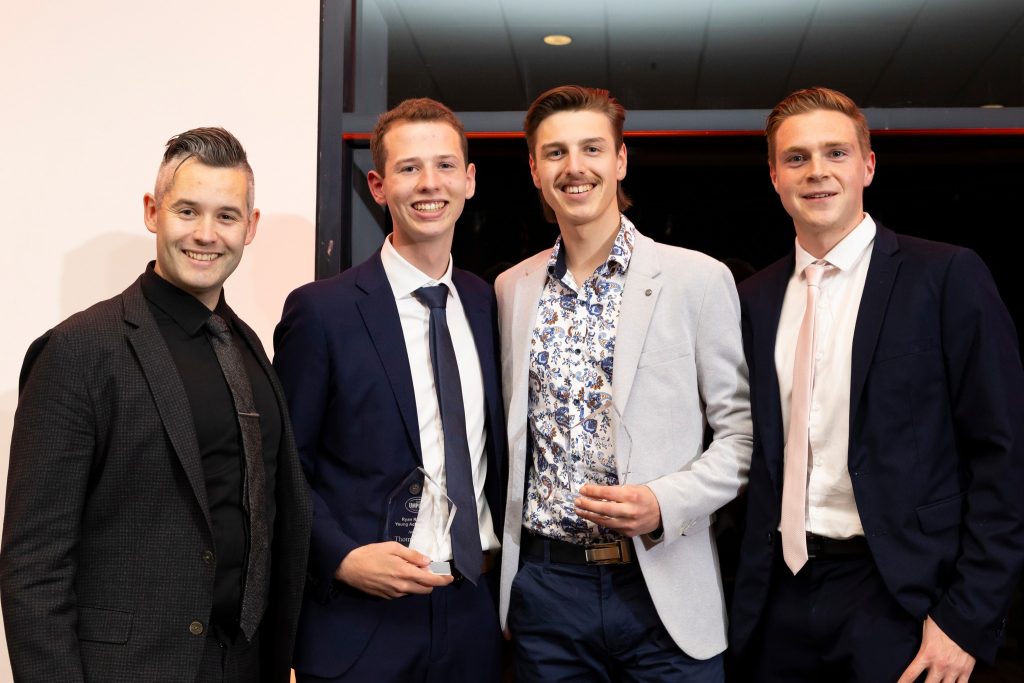 | Year | Young Achiever | Best First Year Umpire |
| --- | --- | --- |
| 2023 | Tom Masters and Tim Wood | Woody Wanless, Dale Nathan & Sullivan Hendrickson |
| 2022 | Angus Bunker-Smith | Patrick Sexton, Kalani Lang & Charlie Rankins |
| 2021 | Jonathan Clark | Jordan Gibson & Harrison Gillespie |
| 2020 | Not awarded | Not awarded |
| 2019 | Lachlan Clancy | Sam Scott |
| 2018 | Patrick Mathews | Vo Schofield |
| 2017 | Raushaan Seychell | Peter Kotsaridis & Tom O'Connor |
| 2016 | Adrian Pretorius | James Bett |
| 2015 | Hamish McCartney | Logan Webster |
| 2014 | Alanah French | Jack Punshon |
| 2013 | Eliot Fabris | Asha Hinton |
| 2012 | Nathan Morton | Ben La Vale & Leigh Saunders |
| 2011 | Kit Harvey | Josh Prince |
| 2010 | Mitsuo Nire | Jarron Fisher |
| 2009 | Jaryd Barry | Tony Hope |
| 2008 | Jayde Daly | Not Awarded |
| 2007 | James Scully | Not Awarded |
| 2006 | Alexandria Anthony | Michael Hegan |
| 2005 | | Shane Mackintosh |
| 2004 | | Peter Angelis |
| 2003 | | Peter Liddell |