Those of us who have been around footy for a while might remember the campaign launched in 2010 by the AFL, "umpiring is everyone's business", designed to support umpires at the community level of the game. This Community Umpiring Week is a fantastic way for us as a VAFA community to reflect on the continuing relevance of this sentiment, what we can all do to contribute to growing umpire numbers to support our ever-growing, great game whilst recognising some of the fantastic things happening in the umpiring currently.
Given the important, yet inconspicuous role we take as umpires, community umpiring week is a fantastic opportunity to provide insight into the umpiring groups current focusses.
AFL Umpire Visits
For community umpiring week in the VAFA, this week, we have some fantastic support from the AFL umpiring ranks. The VAFA umpiring group were fortunate enough to be visited at training by several AFL umpires across the field, boundary, and goal umpiring ranks. Our thanks to:
Field Umpire Peter Bailes
Boundary Umpire Patrick Cran
This visit provided the opportunity for the group to engage with these elite level officials on everything from what it takes to make it at the highest level of officiating to getting coaching on the training track to put into practice in our competition. This insight into the elite level is invaluable for our group, especially for those on a talent pathway, given the continuously strong pipeline we have into state league and AFL pathways with 11 umpires promoted to the state league after the conclusion of the last season.
Umpire Recruitment & Retention
Events like Community Umpiring Week function to increase awareness of umpiring as a sport of choice to participate in the game in a different way or as an additional activity whilst still also playing. Jointly, the VAFA and VAFAUA aspire to be the destination of choice for community umpires, an aspiration we're actively working towards.
As an umpiring leadership team, we're focussed on recruiting new umpires through both existing and new channels. This includes helping potential recruits understand the transferrable skills you learn through umpiring from making quick decisions under pressure, to clear and concise communication skills and working as a part of a tight knit team. The current VAFA umpiring group is proof these can be applied across many contexts with our current group including students to retirees, Academics with PhD's to those working in skilled trades, pilots, lawyers, sporting executives and everything else in between.
The VAFA Umpires are fortunate enough to have access to best-in-class community umpire coaching and this will continue to be a point of differentiation that helps us continue to attract umpiring talent. A recent investment in Match Communication units will also ensure we are role modelling best practice, preparing those on a pathway for umpiring at the next level whilst also providing on-field coaching support in real time to those at the start of their umpiring journey with us.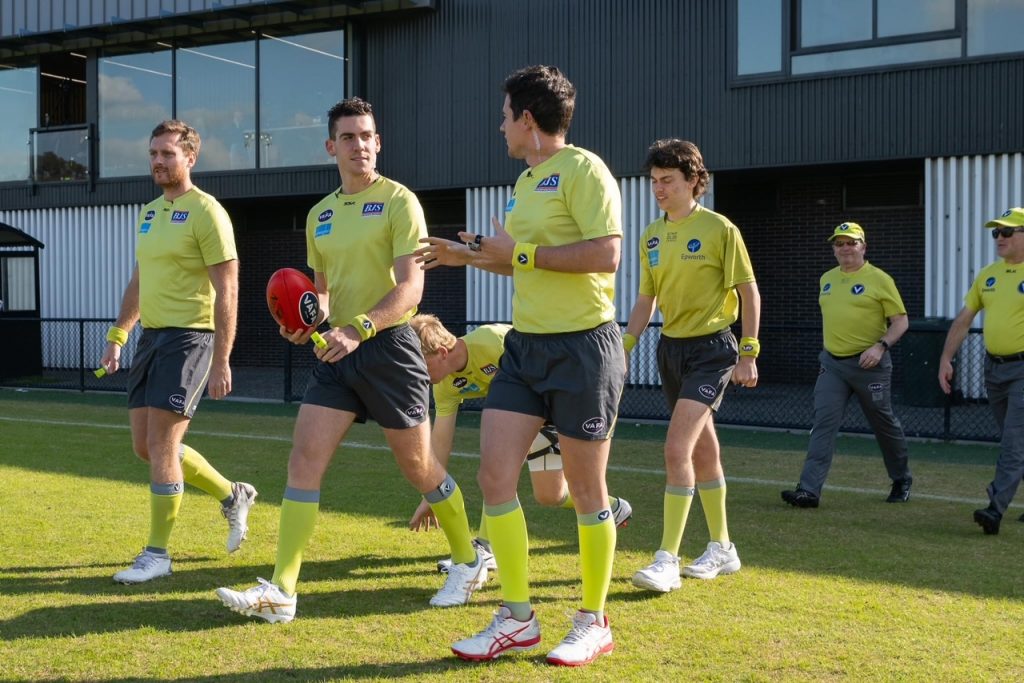 Fostering an Inclusive and Diverse Umpiring Group
A continued focus of the umpiring team is to ensure we are fostering an inclusive environment, to enable our group to be as diverse as the competition we serve. We're highly diverse in some areas and have ample opportunity for growth in others.
VAFA HQ and the VAFAUA have been jointly focus on promoting greater gender balance on the umpiring panel. We have plenty of momentum having recently worked together on re-launching the BJS Women's Academy for season 2023 and the umpiring leadership team have worked with the AFL to pilot training on increasing umpire numbers through inclusion. We have plenty more work to do though addressing some of the findings from the AFL report into Women and Girls in Umpiring last year to make the entire umpiring group a more inclusive space, no matter who you are.
Match Day Environment
Those involved in our great game are some of, if not, the most passionate sporting fans on the globe which helps make football the fantastic game it is. This community umpiring round, it would be remiss of me not to cover the role the entire VAFA community plays in fostering a positive match day environment for all participants, including umpires.
Nobody sets out to make mistakes in a footy match, players don't try to miss a target and umpires don't set out to make decisional errors; this happens though as players and umpires are both human. My ask, this community umpiring round is that you continue to passionately support your team but think twice before yelling across at an umpire, think about how you'd feel if yourself, a friend, or family member was on the receiving end of it.
Football in the VAFA will be better for it, enabling us to continue to recruit and retain the best umpires, to officiate the best community football competition in Victoria.
Remember, umpiring is still everyone's business.
Ben McWiggan
VAFA Umpires Association President